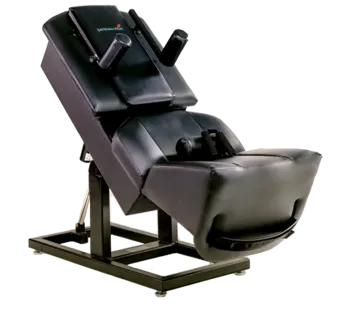 What is Back on Trac Therapy?

Back on Trac therapy is a non-surgical, non-invasive, supplemental treatment we use to help people with the following symptoms:
Degenerative Disc Disease
Extruded Disc
Facet Syndrome
Herniated or Bulging Disc
Lower Back Pain
Pain Elimination
Pain Management
Pain Reduction
Protruding Disc
Sciatica
Spinal Fusion
Spinal Stenosis
Spondylosis
Key Benefits of Back-on-Trac Treatments
1. You begin seated, and the Back on Trac gently leans you back, providing vibration while making you feel relaxed.
2. 15-minute treatment time. Back-on-Trac is a treatment program that doesn't take up your entire day.
3. Back-on-Trac offers therapy without having to use cumbersome restraints and belts.
4. Back-on-Trac therapy is delivered through gentle stretching of the spine, joints, and a wide range of important muscles, including those in the back, neck, hips, and thighs.
5. A non-invasive and effective solution that works for chronic back pain.
How does the table work?
Please watch this short video:
Call the office at 636-456-2966 to get scheduled for a Back on Trac consultation, today!
"And this same God who takes care of me will supply all your needs from his glorious riches, which have been given to us in Christ Jesus."
Philippians 4:19